Return to News
Oct 04, 2022
Elias Law Group Partner Abha Khanna Argues Major Voting Rights Case Before the U.S. Supreme Court
On Tuesday, Elias Law Group Partner Abha Khanna presented oral argument before the U.S. Supreme Court in Merrill v. Milligan, a case that could decide the future of the Voting Rights Act.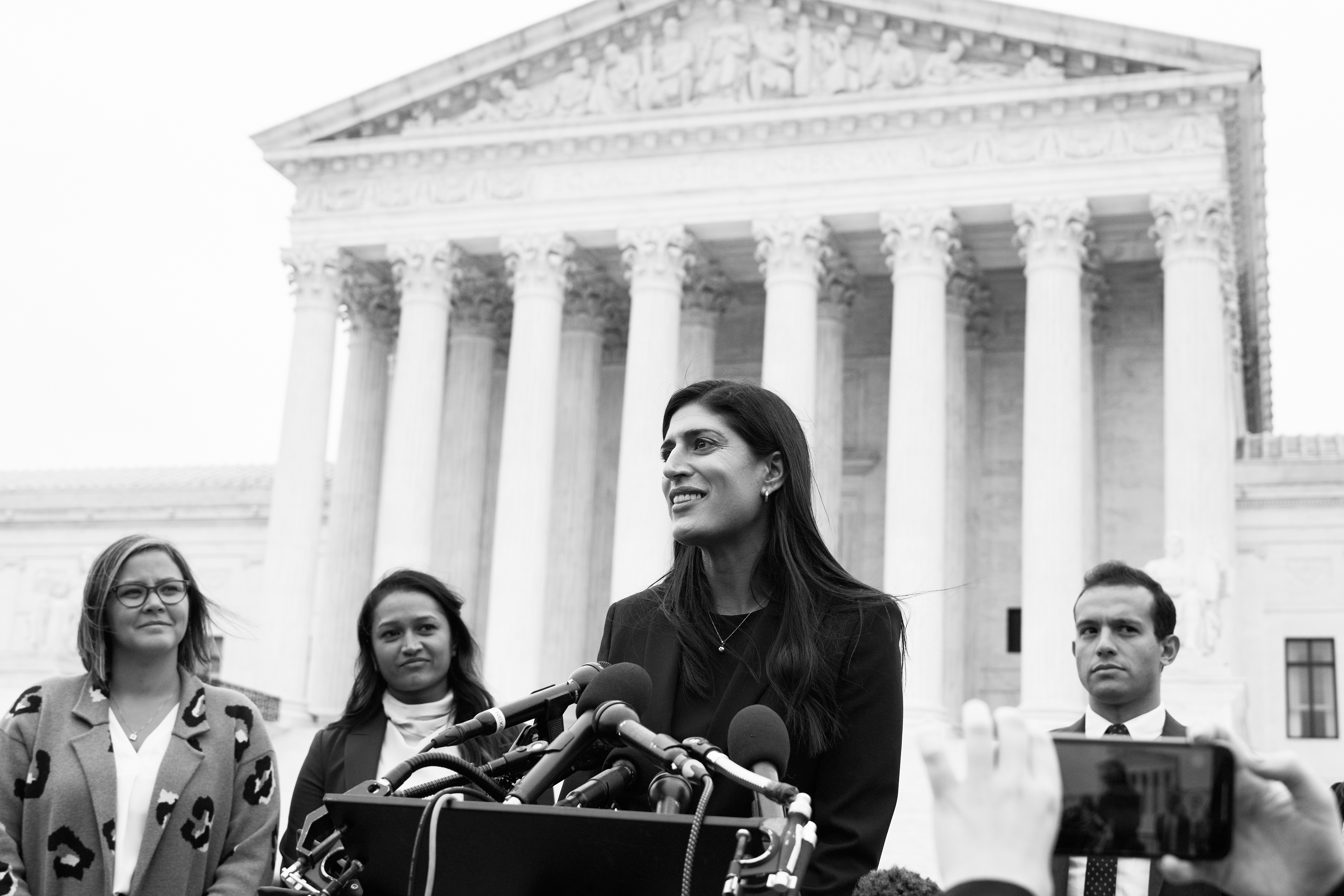 Elias Law Group represents the Caster respondents, a group of Black Alabamians who, in partnership with the National Redistricting Foundation, filed a lawsuit against Alabama Secretary of State John H. Merrill last year after the establishment of a new congressional map that strategically cracks and packs Alabama's Black communities, diluting Black voting strength and confining Black voting power to one majority-Black district.  
In this case, the Court will determine the future of Section 2 of the Voting Rights Act (VRA), as it considers whether to uphold a unanimous lower court decision striking down Alabama's discriminatory congressional map as a likely violation of the VRA due to the state's failure to provide Black Alabamians an equal opportunity to participate in the political process. 
"Alabama seeks to upend the Section 2 standard that has governed redistricting for nearly 40 years. But Alabama's novel theories not only defy statutory text and precedent, they would cause profound upheaval for courts, states, and minority voters. [...] Make no mistake, nearly every majority-minority district would become a litigation target," Khanna told the Court on Tuesday.  
When asked by Justice Sotomayor about how much to weigh historical district boundaries in the redistricting process, Khanna answered, "This goes precisely to why Congress adopted a results test in 1982 to begin with, [...] so that the states could not utilize old ways of doing things and entrench discriminatory schemes just by perpetuating them over the course of time."  
This case "is about the basic promise of our democracy: every American, regardless of race, must have an equal opportunity to elect representatives of choice. That promise was broken in Alabama. The lower court found a clear violation of Section 2 of the Voting Rights Act because, still today, Black people are being denied opportunities that are provided to other voters. This morning we asked the Supreme Court simply to reaffirm decades of established precedent and ensure that the Voting Rights Act continues to protect against voting discrimination," Khanna told reporters after the oral argument. 
Click HERE for a transcript of today's oral arguments.  
Click HERE for an audio recording of today's oral arguments.  
Elias Law Group attorneys Lali Madduri, David Fox, Dan Osher, Joseph Posimato, Jacob Shelly, Jonathan Hawley, and Olivia Sedwick contributed to this case with support from Michelle DePass.  
###